In celebration of the return of this fantastic series I am re-posting this. Do go and watch it – it's wonderful!
I am nearly done with the third draft of my comic caper novel and am hoping to enter it in the Comedy Women in Print Competition – watch this space!
Also, all sort of updates on Dog, my children – who have managed to grow three feet in the last month and are now taller than me (horrors!) – plus the story of my gruesome arm blister (with pics!) – to come as soon as I stop writing this BLOODY BOOK xx
I was delighted to learn the the fourth season of Grace and Frankie was coming to Netflix on the 19th January. It's a very watchable and funny programme. At the very least it's so wonderful to see actors in their late 70's featuring as central cast members with all the passions, joys and frustrations of ageing explored with such honesty and humour.
But it's not just the novelty of seeing great acting from so called 'senior actors' which makes this worth watching. The whole cast is brilliantly put together and the script is full of zippy one liners which are so quick and so clever you find yourself having to keep on using the 10 second rewind button to make sure you haven't missed anything.
The Premise
Excuse terrible quality – there isn't a YouTube video of it and the kids were hogging the TV so had to record it from my laptop!
As can be seen from the opening titles the premise is fairly straight forward.
Grace and Frankie have been married to their lawyer husbands, Robert and Sol for over forty years. In the opening episode Grace and Frankie are invited by their husbands to go out to dinner, all four of them.
Robert and Sol are divorce lawyers who run a law firm together, and their wives are delighted as they think that the reason for the dinner is that the men will be announcing they are finally going to retire.
Grace and Frankie do not like each other. They have kept civil over the years because their husbands have been friends and colleagues throughout their married life. The antipathy between them is obvious from their awkward conversation at the restaurant table whilst waiting for their husbands.
Robert and Sol arrive and instead of announcing their retirement, announce they are leaving Grace and Frankie. For each other.
Robert, Grace's husband, reveals they have been in a relationship for twenty years. They want to start the new chapter in their lives together, 'before it's too late'.
Robert explains with eager pride, 'because we can get married now.' To which hippy Frankie replies dryly, 'I know. I hosted that fundraiser.'
The upshot is that, for a variety of reasons, Grace and Frankie end up having to live together in the families' shared beach house.
Much of the humour comes from the 'Odd Couple' dynamic between Grace and Frankie. However, their children, particularly the waspishly brilliant Brianna Hanson played by June Diane Raphael, gives the series extra scope and appeal.
The Characters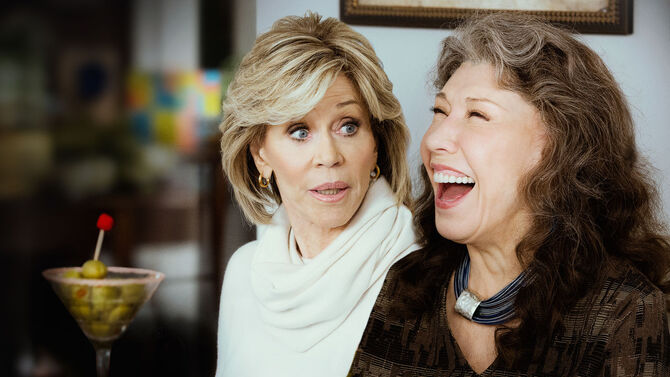 Grace and Frankie
If you're the same age as me you may remember the wonderful film '9 to 5' which was the first time I saw Jane Fonda and Lily Tomlin acting together, along with Dolly Parton. It's still a film that can be enjoyed today – very of its time though! You can watch the whole thing on YouTube It has one of the best theme songs.
Here is the original trailer which is terrible!
Someone made this one which I think is better as at least it features the women and the song!
Anyway, sorry, massive digression…
The reason I am quoting a film which is 38 years old is not only because I am happy to see these two together again (let's hope Dolly Parton does a cameo in G&F at some point), but their long standing connection with each other gives extra strength and depth to the roles they play in this programme.
Fonda plays an uptight WASP who rigidly controls her diet. Her drink is a vodka martini 'straight up, very dry – two olives on the side.' When she asks a waiter to take away the bread basket Frankie points out to her that vodka is made of potatoes. Grace replies, 'alcohol has it's own rules.' She was a very successful business woman before handing over – with reluctance – her cosmetics company to her daughter, Brianna.
Although her marriage to Robert was essentially loveless, she misses the respectability and social standing he offered her and struggles with accepting her age: movingly crying: 'I refuse to be irrelevant!'
Frankie is an unapologetic old hippie. I love her character; she is an artist with a free spirit and expresses constant exasperation with Grace's uptight approach to life. Open about her sex life, keen on dope and good food, she is the antithesis of Grace.
One of her most heart-breaking moments is when she applies to be an Art Teacher at a seniors' home and the staff member showing her around assumes she is there for a room as one of the 'old folk'. Frankie is horrified and leaves in high dudgeon, but demonstrates some supple yoga squats yelling, 'I'm not old!' before she leaves with a swish.
Frankie invents and successfully markets a sex lube made from yams. This is the advert they put together.
Later, as their relationship develops and grows, Grace and Frankie work together to create a vibrator suitable for older women with issues such as arthritis in their hands. Here they explain to their family why they are doing it.
In an episode early on in the first season, No 3: 'The Dinner', there is a little thread underlying the main plot about Grace's poor eyesight and Frankie's problems with her hearing. It is very subtle but it leads to a joyful conclusion right at the end of the episode.
Grace's sight and Frankie's hearing – you have to watch the whole episode, really to appreciate why this is so funny.
Bravo to the creators, Marta Kauffman Howard J. Morris, for little touches like this which, in my opinion, make an outstanding show. The UK show One Foot in the Grave used to do a similar thing with little plot trails leading to unexpected conclusions.
Although very funny, this show does not flinch from the tragedy of ageing. Friends die; children grow up, divorce, drink and are unhappy; Grace and Frankie find their bodies fail them and they constantly face the terrors of their mortality. But I love it because they face these hardships with stoicism and humour, they challenge people who ignore or overlook them. I love their courage.
Frankie dresses up Grace and takes her dancing. They end up on the bar and are told, 'Ma'am you're going to have to get down.'
Brianna Hanson
All the cast are wonderful but I particularly adore this character. Never seen without her razor sharp traffic-light-red cupid bow she is deliciously witty. She wears the most fabulous clothes and gets some of the best lines.
Walking into her family home where her 'two gay dads' now live:
Sister: Wait! What are you doing?
Brianna: I'm having dinner with my gay dads, you?
Sister: You can't just walk in there! It's not your house anymore.
Brianna: I lost both my virginities in this house. It's my house.
Most importantly, she's got this get way of drawling her lines deadpan in the style of late greats such as Bette Davis and Joan Crawford. The bitch with a heart of gold is a familiar archetype but June Diane Raphael does it with such style she brings new life to the cliche.
It helps she is supported so ably by the other children of the older couples, her sister Mallory – played by Brooklyn Decker – can hold her own against Brianna, and they capture the complexities of the sister relationship with absolute conviction.
I hope I've convinced you to have a look if you haven't seen this already. Finding all these clips has reminded me again what a fantastic show Grace and Frankie is. The good news is it is going from strength to strength with – so far – each season being better than the last.
This trailer for Season 3 sums up everything I love about Grace and Frankie. Enjoy! Let me know what you think.
PS I completely love Jane Fonda anyway, but her recent Instagram post made me love her even more.