I can't believe it is October already. I have held on to summer as long as I could, but I have now given up – stopped shaving my legs – and embraced books, fires, hot chocolate and crisp, cold afternoons. It's not all bad!
I have spent the last month or so on my book. I wrote around 50,000 words over the summer holiday and was delighted with myself. Then I gave it to Rob – who hates reading and isn't my target audience – who told me he loved the first chapter (I was delighted!) but the second narrative was crap, and didn't work at all.
So I then had to spend the last month staying up late and getting up early to re-draft the whole damn thing. Only now am I happy with it but have realised I am just about half way, and there's a long way to go yet. I'm stuck at the moment. I've reached a crucial bit and I know where I want to end up, but can't work out how to get there. I've had to force myself to stop writing so I can sleep on it a bit otherwise I will ruin it.
Arggh It's horrible. So hard work. Also what is annoying is when I'm into my story I can't read anyone else's because either they are really good and and make me think everything I write is shite, or they are so absorbing and different from the atmosphere I am trying to create I have to put them down so they don't infect my people.
Rob is being brilliant and working his way through my new chapters offering me sound advice. Unfortunately it takes him ages as he is dyslexic so I have to offer him increasingly hedonistic rewards to get him to keep going. The Divine Mr B has also agreed to read what I've done, but I keep changing it so the poor man has to keep starting again. I owe him dinner.
Meanwhile the children are being their usual delightful selves. Yesterday Son endeared himself to us all by devising a new plan to get Daughter out of the house in the morning so we aren't late for school. Now he stands holding his phone gazing at the clock intoning 'Five minutes left'…. 'four and a half minutes left.' then a few minutes later… 'we are now late by three minutes and 20 seconds…'
It drives Rob and me mad but Daughter's response is to screech back 'I don't care! I don't care!' every 30 seconds. So nothing has changed and we don't arrive any earlier. I just end up screaming at both of them rather than just Daughter.
My big news is, in a fit of extravagance, I somehow wound up at the La Mer (previously creme de la mer) counter of my local department store. I had been given a voucher and thought I'd try some of their tinted moisteriser which had come highly recommended from a friend. (I was still holding onto the last dregs of summer at that point). So once that was purchased the server – a man with eerily looking youthful skin, though he clearly wasn't youthful – asked if I would like some samples. 'Of course! I reply – do you even need to ask?'
'And what were madam's particular concerns?' he beams with his tight little face.
So I list them. Extensively. He picks up on 'face sagging off bones,' and brightens.
'I have the perfect thing, madam!' he exclaims.
He gives me a sample of this…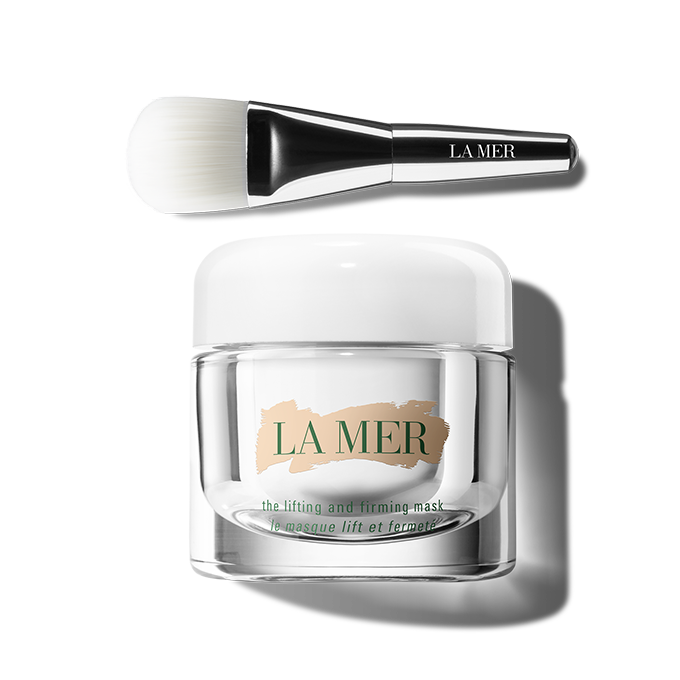 The 'The Lifting and Firming Mask', a 'Leave-on cream mask to help uplift and firm skin's appearance.'
So I thought, ooh I'll give that a try. And this is the problem. I put it on and, I am not kidding you, the next morning I looked FIVE YEARS YOUNGER. MAYBE EVEN TEN.
Seriously, my jaw line was tight. The sagging lines around my mouth? Practically disappeared.
I have absolutely no doubt this is some crazy tightening stuff which isn't actually changing the skin or anything, but it is a hell of a temporary effect.
So what's the problem?
The problem is it costs ONE HUNDRED AND SEVENTY FIVE POUNDS.
I cannot justify the cost, no matter how incredible it looks… Can I?
Get a sample and see for yourself. I am receiving no money for this by the way. But if they want to send me a jar I am happy to continue singing their praises. In fact I'll take two.
I also wanted to recommend the Robert Galbraith novels featuring Cormoran Strike. They are excellent, and you may have seen the wonderful TV adaptations on the BBC.
*This is the first one and I was immediately hooked – couldn't put it down. Of course, I realised later why a debut novelist I'd never heard of wrote so compellingly, but when I first read it I took it at face value.
The whole series so far is centered around a war veteran who has lost his leg and sets up a private detective business. He is accompanied by Robin – a great character, a proper warrior – who struggles to balance her domestic life with her desire to work for Strike with all the dangers attached.
Great writing, gripping plots and engaging characters – highly recommended. I just finished the latest one, Book 4 in the series and it didn't disappoint.
Going back to the book I am trying to write -which isn't in the same league as the Galbraith's of course – I am interested to find how blogging has helped.
I've pretty much written an unpublishable novel every year since I was about 12. I then stopped for a bit and started this blog last December. In that time I've written 79 posts plus numerous drafts, which I work out is about one every two weeks.
This regular commitment to writing has really improved my writing of fiction elsewhere. This was something I really hadn't expected. I have much more discipline and getting feedback from readers is also hugely helpful.
I hope to finish the book by the end of the year and then comes that horrid bit of sending it to a million people and waiting for their response. I haven't had any luck yet, but maybe this one will be it!
I'll let you know how I get on. I was hoping to get further these last few weeks but as well as being fully back to work, our little one-bedroomed holiday let has caused the following problems:
Fox ate the guest's food caddy leaving nothing but a chewed handle.
Squirrels ate through some kind of wire so the wifi crashed and died.
The towel rail valve broke – guest not at all happy
The heating stopped working
When the guest ran the shower, puddles seeped into the kitchen.
British Gas sent an engineer for Nos 3&4. Rob took the day off work. Engineer called to ask me for directions. I was in the shower so didn't hear the phone. Engineer decided not to text or leave a message, just contacted Head Office to say 'can't find the place – so have cancelled appointment.'
Rob is livid.
This all happened in one week. And we don't even have any wine to make the pain go away as we had to give it all to the poor, cold, wifi-less, squirrel-ridden guests.
To cheer everthing up here is a picture of Dog who, touch wood, is happy and healthy with no cones, sickness, or eating of treats.
*I'm not getting a commission from La Mer, but if you go on to buy one of these books I do get 5p. Happy days.